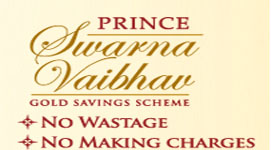 <!β€" 468x60_30Mar2018 β€">
Prince Jewellery Gold Savings Scheme - Swarna vaibhav
Swarna vaibhav is one of the intelligent gold saving schemes from Princes Jewellery; this scheme makes you to invest in gold in the smartest potential way. You can directly buy grams of gold every month and it's added to your account as monthly installment instead of buying them at the end of maturity amount.
Payment options
Rs.1000 or in multiple of Rs.1000 and the scheme tenure is 15 months. Payment can be done by cash, DD, MO, ECS, Cheques payable at Chennai or through online. Investment is according to the gold price in Chennai regardless of the place of account maintained.
Debit or credit cards can also used for payment, bank charges collected if any. Installment should be paid on or before 10th of the respective month.
MONTHLY INSTALLMENT

BONUS

12 MONTHS

18 MONTHS

24 MONTHS

500

250

600

1050

1000

500

1200

2100

2000

1000

2400

4200

5000

2500

6000

10500

10,000

5000

12000

21000
<!β€" 468x60_30Mar2018 β€">