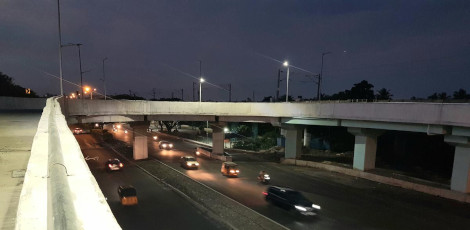 <!— LinkAdsResp16Jun2017 —>
The superb piece of news now is that work on one of the two U-turn flyovers on the Rajiv Gandhi Salai near Indira Nagar MRTS in south Chennai is nearing completion. For the next 10 days, the final completion work, painting the flyover etc would be carried out here.
According to some sources belonging to TNRDC it was confirmed that a bituminous tar layer atop has been laid and the first coat of paint is being done now. The sources added that due to the current on and off rains the painting work is still pending. Soon, the road markings will be done here.
It is now said that the unidirectional flyover would allow the vehicles moving from Siruseri towards Madhya Kailash to make a U turn at the elevated level. In order to reach the destinations, the vehicles could use Indira Nagar Second Avenue and other roads leading from there.
By the end of December, the second flyover that is constructed just beyond the Tidel Park junction would be completed. It is learnt that most of the work to construct the main body of the second flyover has been completed. Point is that the service lane and ramp on one side would have to be constructed. The source has hinted about the superb progression of the work on the additional arm landing at CSIR Road. It is noteworthy that this facility is meant for use by the motorists travelling from Thiruvanmiur to Madhya Kailash to take a U turn.
Point to be noted is that the motorists must take a left turn to climb onto the flyover and then take a U turn at the elevated level and get down before the access road to Tidel Park.
For smooth traffic flow on the roads and to reduce the wait times at the traffic signals, the TN govt announced in July in 2019 about the construction of 2 U shaped flyovers one each at Tidel Park and at Indira Nagar junctions. In November 2019, an amount of Rs 108.13 cr was sanctioned as an administrative sanction.