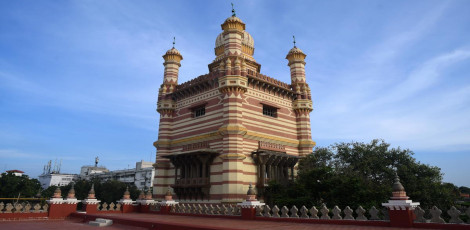 <!— LinkAdsResp16Jun2017 —>
The sensational news is that the Record Tower in Chepauk that has remained in a damaged condition and unoccupied since 2005 would be restored and open to the public.
History about Record Tower:
It is important to note that Record Tower is a part of Chepauk palace present facing the Wallajah Road. It is 34.4m tall and was constructed by Robert Chisholm to connect the palace blocks of Humayun Mahal and Kalas Mahal after the British Govt acquired it. Information is that the spiral steel staircase fixed with many bolts leads to scenic views of Chennai city and sea around the city.
This Tower Block is spread over a land area of 5111sqft and there is a huge onion shaped dome in the centre. The tower block has got red and white stripes over it.
Other damaged structures of the Chepauk palace would also be restored and the Building Centre and Conservation Division or BCCD (PWD wing) has called for tenders to preserve the heritage structure. It is shocking to note that about 60% of the structure has been damaged now.
As per the executive engineer of BCCD, PWD Mr. Manikandan it was clear that the edifice was used as a Mosque in the past and as a watch tower during Nawab of Arcot regime. He spoke about how once the Humayun Mahal with the Independence Day museum gets ready then the visitors might be allowed in the Record Tower by means of a connecting corridor from the Mahal.