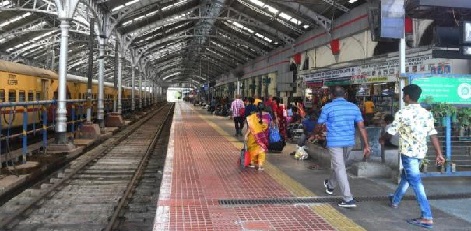 <!— LinkAdsResp16Jun2017 —>
As the renovation of Egmore railway station in Chennai progresses towards a world-class transformation, the railway residential buildings along Gandhi Irwin Road have been completely demolished, marking a significant step in the upgrade process.
The Southern Railway has undertaken the ambitious task of upgrading the century-old Chennai-Egmore railway station to a world-class facility, incorporating modern amenities and facilities to cater to the evolving needs of passengers. With a vision for the next 50 years, the restructuring of train services will be designed to optimize passenger movement and enhance efficiency.
To carry out this monumental project, a contract worth Rs 734.91 crore was awarded to a Hyderabad-based private company last year. The company meticulously mapped and measured the Egmore station, laying the groundwork for subsequent development activities.
Presently, the demolition works of the railway quarters near Gandhi Irwin Road and the railway quarters adjacent to Poontamalli Road are in full swing. A total of 45 houses, including residences for railway employees, officials, and private houses near Gandhi Irwin Road, have been demolished, with a recent Bhoomi Puja ceremony marking the start of construction.
Simultaneously, the demolition of over 120 houses in the Railway Quarters adjacent to Poontamalli Road has gained momentum. Once the demolition work is completed, the construction phase will commence. In addition to the residential buildings, other office structures such as the train driver`s room and ticket inspector`s room will also be demolished.
The railway office will be relocated near the existing parcel office at Egmore railway station, ensuring the preservation of the station`s facade. The renovation project is estimated to be completed within a span of 3 years, as officials remain committed to the timely execution of the ambitious transformation.