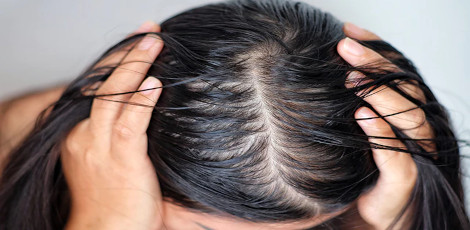 <!— LinkAdsResp16Jun2017 —>
We can sometimes have a low kind of feeling when our hairs are oily and greasy. This oily or greasiness is mainly due to sebum that is released by the scalp. It is important that we must also have some amount of sebum so that our scalp would be moisturised. Excess sebum release could lead to greasy hairs on the head.
The dirt would get built up on the head when excess sebum gets released from the scalp. This would in turn lead to clogging of hair follicles. In the end due to the clogged hair follicles, we could have hair and scalp issues resulting in hair loss etc. We must take enough care so that our hair doesn`t become greasy or oily.
There are some superb remedies available at the homes that would help us solve the oily hairs issue. They are
Apple cider vinegar or ACV application :
If we have oily or greasy hairs, then it would be superb to use ACV that would be available in the homes. In the first step, one cup of ACV must be added to a litre of water and in the next step the combination must be applied on the head. The excess sebum produced by the scalp would be controlled.
Tea tree oil application :
The antibacterial properties in the tea tree oil would help to control dandruff in the head. It could also prevent excess production of sebum on the scalp. Shampoo with tea tree oil could be used by us to control excess sebum production.
Lemon application:
In the first step, lemon must be mixed with water in a cup and in the next step the combination must be applied on the scalp. After 10 minutes, the scalp must be washed thoroughly with water. This would prevent excess formation of sebum and would prevent hairs from becoming oily.
Aloe vera application:
Aloe vera is mixed with one litre of tea tree oil and then the combination must be applied on the scalp. This would solve issues like dandruff, oily hairs etc. Truth is that the hair health would be boosted.