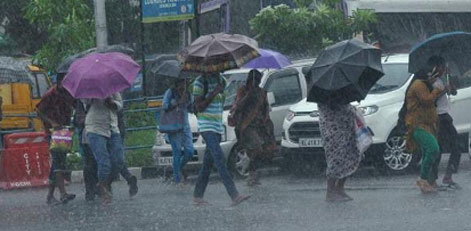 <!— LinkAdsResp16Jun2017 —>
The Meteorological Department has issued a weather alert for Tamil Nadu, predicting continuous heavy rain beginning tomorrow. This forecast is attributed to the presence of a low atmospheric circulation near Sri Lanka.
In a press release from the Director of the Chennai Meteorological Research Center, P. Chenthamaraikannan, it was stated that the atmospheric circulation prevailing in the southwest Bay of Bengal and Sri Lanka is likely to bring thunderstorms to Tamil Nadu and Puducherry. Light to moderate rain, accompanied by lightning, is expected in some areas on the 19th and 20th, with a possibility of continuous heavy rain in various districts on the 21st.
Specifically, districts such as Thanjavur, Tiruvarur, Nagapattinam, Mayiladuthurai, Cuddalore, Pudukottai, Ramanathapuram, Thoothukudi, Tirunelveli, Kanyakumari, and Karaikal are anticipated to receive heavy rainfall. On the 20th, heavy rain is also expected in a few places in the above-mentioned districts, as well as in Tenkasi, Theni, Virudhunagar, and Karaikal.
In the next 48 hours, Chennai is expected to have partly cloudy skies with the possibility of thunder, lightning, and moderate rain in some areas. The maximum temperature is forecasted to be 31 degrees Celsius, while the minimum temperature is expected to be 25 degrees Celsius.
The weather report for the 24 hours ending at 8:30 AM on the 17th revealed significant rainfall in various areas. Nalumukku in Tirunelveli district recorded the highest rainfall at 10 cm, followed by Oothu and Kannadayan dam at 9 cm, Kakachi at 8 cm, and Mancholai at 7 cm. Additionally, Kalakadu in Kanyakumari District reported 6 cm of rainfall in Shivaloka.
Residents are advised to stay updated on weather forecasts, take necessary precautions, and follow local authorities` guidance to ensure their safety during the expected period of heavy rainfall.