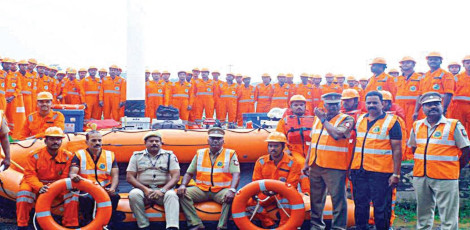 <!— LinkAdsResp16Jun2017 —>
The Department of Police of the State Government of Tamil Nadu has initiated preventive measures to address issues arising during the Northeast Monsoon Rainy Season. Eighteen Disaster Management Squads have been established, and a dedicated control room has been set up.
As the Northeast Monsoon Rainy Season escalates, the Department of Police in the State Government of Tamil Nadu has implemented various preventive measures to mitigate challenges associated with the monsoon season. Eighteen squads have been deployed.
In this context, the Director General of Police, Shankar Jiwal, issued a circular on Wednesday, 14th November, to all Police Commissioners and District Superintendents of Police, providing details:
"Eighteen Disaster Management Squads, comprising 986 Police personnel equipped with 170 types of Disaster Management Equipment, are prepared. Among these, six squads are stationed in Avadi, Chennai Metro City. These squads are fully equipped to handle any disaster situation in Chennai, Thiruvallur, Kanchipuram, Chengalpattu, and Cuddalore Districts.
Twelve Disaster Management Squads are on standby to address disasters in coastal districts.
These squads will be mobilized based on the latest information received from city/district-specific disaster management control rooms and will be dispatched to affected areas for rescue and prevention activities.
A special Control Centre has been established at the Office of the Additional Director General of Police and is operational 24*7.
The special disaster monitoring and management centers set up in all cities and districts (112, 1070, 9445869843, 9445869848) will operate round the clock.
These special control centers will maintain constant communication with all departments, particularly the Police Department."
The Director General of Police has conveyed that the aforementioned special control centers will closely monitor weather reports and respond promptly as per the demands of the situation.