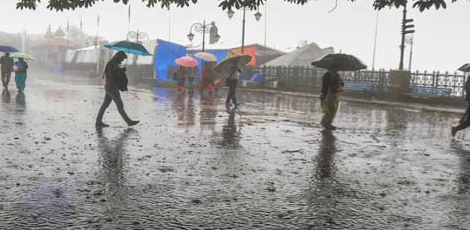 <!— LinkAdsResp16Jun2017 —>
The Chennai Met Department has mentioned that today the depression over Bay of Bengal would further strengthen and move towards the Andhra Pradesh coast. As a result, there would be light to moderate rains in Tamil Nadu.
It is worth mentioning here that after the intensification of NE monsoon, the low pressure area that was formed over the Bay of Bengal 2 days ago strengthened and turned into depression. Yesterday, it was present on the sea at a distance of 510km from Visakhapatnam. It began to intensify further.
The absorption of moisture led to rains in places like Chengalpet, Villupuram, Cuddalore,Kallakurichi, Thanjavur, Thiruvaur, Nagai, Mayiladuthurai and Pudukottai districts etc. Yesterday there were 110mm of rain in places like Velankanni, Kodikkarai and Karaikal etc.
There was rains ranging from 100m to 80mm in localities in Chennai such as DGP office, Ambattur, Chennai Dist Collectorate, Kodambakkam, Kathivakkam, Sholinganallur, Mahabalipuram, Alandur, Adyar, Guindy, Nungambakkam, Meenambakkam, Thiru Vi Ka Nagar, MGR nagar, Perambur, Teynampet, Mugalivakkam, Tondiarpet, Thiruvottiyur etc.
It is now revealed that the low pressure zone in the central Bay of Bengal would strengthen further and move in the NW direction and become a deep depression in the central Bay of Bengal adjoining the Andhra Pradesh coast. Point to be noted is that it would move in the north and NE direction and would settle over NW Bay of Bengal along the Odisha coast tomorrow. On 18th November, it would move over north Odisha- West Bengal coastal area.
Today and tomorrow, light to moderate rains would occur in TN, Puducherry and Karaikal etc due to the movement of atmospheric air circulation in the north and NW direction. It is known that this atmospheric air circulation was standing over the SW Bay of Bengal adjacent to the coastal places of Sri Lanka. Chennai would be cloudy and light to moderate rains would occur in some places belonging to Chennai. It is noteworthy that the fishermen have been advised not to venture into the coastal areas of TN, Gulf of Mannar etc due to the cyclonic winds of speeds of 45kmph to 55kmph.