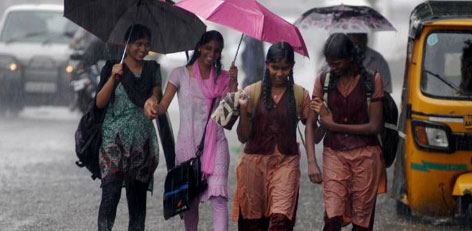 <!— LinkAdsResp16Jun2017 —>
Chennai, November 14, 2023 - The Indian Meteorological Department issued a statement on Tuesday, confirming the formation of a low-pressure area over the southeast Bay of Bengal and Andaman & Nicobar Islands. Predicted to intensify into a depression and deep depression off the Andhra Pradesh coast by November 16, the system has already brought substantial rainfall.
Rainfall Records and Impact:
Velankanni in Nagapattinam district reported the highest rainfall for the second consecutive day, recording 17 cm. In Chennai, Nungambakkam and Meenambakkam weather stations documented around 5 cm of rainfall until 8 PM on Tuesday. Coastal and interior districts are expected to experience heavy rainfall over the next two days, with Chennai and its suburbs anticipating moderate to heavy showers, according to Deputy Director General S. Balachandran.
School Closures and Emergency Measures:
In response to the weather forecast, schools in several districts, including Ariyalur, Thanjavur, Villupuram, Tiruvannamalai, Nagapattinam, Tiruvarur, and Cuddalore, were closed on Tuesday. Chief Minister MK Stalin conducted an inspection at the State Emergency Operations Centre, emphasizing the need for disaster preparedness. He virtually communicated with district collectors, urging precautionary measures and ensuring the availability of essential facilities at relief centers.
Outlook and Preparedness:
Weather blogger K Srikanth highlighted the likelihood of reduced rainfall activity from November 16-17 as the deep depression recedes. However, models indicate the potential formation of another low-pressure area, possibly bringing more rains next week. As precautionary measures, ministers were dispatched to oversee districts with heavy rain forecasts, and senior IAS officers were assigned monitoring roles to coordinate rescue and relief efforts.
Rainfall Statistics and Deficit:
From October 1 to November 14, the state experienced 233.3 mm of rainfall, with a deficit of 14% compared to the normal average of 272 mm. While some districts faced excessive rainfall, others reported deficits. In response, 121 shelters were prepared to accommodate 113,000 individuals across 14 coastal districts.
School and College Closures:
A holiday has been declared for schools in Chennai and Tiruvallur on Wednesday, along with both schools and colleges in Puducherry and Karaikal regions. The state remains vigilant as it prepares for potential further impact from the weather system.