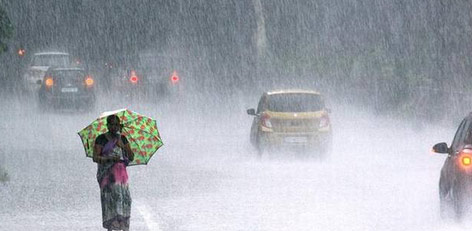 <!— LinkAdsResp16Jun2017 —>
The meteorological dept has informed that there would be rains in 10 districts including Chennai and its suburbs, delta regions etc. Meteorological centre senior officer B. Geetha has issued a press release now.
According to the release, upper air circulation is prevailing now in the south Andaman Sea. It added that due to its impact a depression is likely to form over the south east Bay of Bengal in the next 24 hours. Information is that it would move in west northwest direction and might develop as a low pressure area over central west Bengal on 16th November. In addition, there is now upper air circulation over the southwest Bay of Bengal. As a result, TN would receive rains for the next 2 days.
There would be light to moderate rains in most places in TN. Puducherry and Karaikal today 14TH November. Districts like Villupuram, Chengalpet, Kanchipuram and Cuddalore etc might receive heavy to very heavy rains at a few places. Chennai, Thiruvallur, Thanjavur, Thiruvarur, Nagapattinam and Mayiladuthrirai etc would receive heavy rains. There might be heavy rains in one or two places belonging to the districts like Ranipet, Thiruvanamalai, Kallakurichi, Thirupathur, Vellore, Ariyalur, Perambalur, Pudukkottai and Trichy etc.
As per the release, tomorrow 15th November there would be heavy rains likely in 1 or 2 places in Chennai, Thiruvallur, Kancheepuram, Chengalpet, Thirupathur, Vellore, Ranipet and Thiruvannamalai etc. Today, there will be cloudy skies in Chennai and its suburbs. There would be moderate rains in few places in Chennai.
It has been mentioned that in places like Kanchipuram, Chengalpet, Villupuram, Thanjavur, Mayiladuthurai, Nagapattinam, Thiruvarur and Karaikal etc there would be 12cm to 20cm rains. National Disaster Response Force or NDRF have been put on alert due to the possibility of rains.