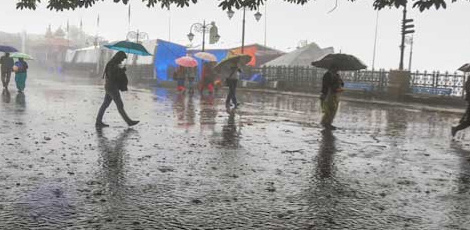 <!— LinkAdsResp16Jun2017 —>
In a notification released by the Director of the Chennai Regional Meteorological Centre regarding the weather, it is mentioned:
"Due to the phenomenon of thermal convection, there are prospects for mild to medium rain with lightning and thunder for the next four days in Tamil Nadu, Puducherry, and Karaikkal.
As per the rainfall recorded at 8:30 AM yesterday (Wednesday, 24th May), the maximum rainfall recorded in centimeters (cm) were as follows: Tirupur District Madathukkulam, Krishnagiri District Kelavarappalli Dam, Erode District Nambiyur - three each; Krishnagiri District Hosur, Coimbatore District Vaalparai, Tirupur District Thirumurthy Dam, Nilgiri District Udhagamandalam - two each.
High-speed winds at 40-45 km/h, intermittently reaching 55 km/h, may blow across the Tamil Nadu coastal areas, Bay of Mannar, Kanyakumari Ocean, Coastal areas of Kerala State, Lakhdiv Area, and the southwest Bay of Bengal adjacent to Sri Lanka. Therefore, fishermen are warned not to venture into the sea for fishing until the 28th of May.
The temperature has soared past 100 degrees Fahrenheit in thirteen cities!
Presently, the peak of summer in the south, known as `Kathiri veyil` or `Agni Nakshatram,` is ongoing. Last week, the temperature was higher by 2-4 degrees Fahrenheit than the average in several cities in Tamil Nadu State. Particularly in the current summer season of 2023, Vellore recorded a maximum temperature of 108 degrees Fahrenheit on 15th May. The very next day, on the 16th of May, Chennai Meenambakkam recorded a maximum temperature of 108 degrees Fahrenheit. After this, due to the summer rains, the temperature decreased in some cities. However, the temperature still exceeded 100 degrees Fahrenheit in several cities.
In this scenario, yesterday (Wednesday, 24th May), the temperature exceeded 100 degrees Fahrenheit in twelve cities. Chennai Meenambakkam recorded the highest temperature of 105 degrees Fahrenheit.
The temperature recorded in several places in degrees Fahrenheit were as follows: Thiruthani, Vellore - 104; Trichy and Madurai - 102; Chennai Nungambakkam, Karur Paramathi, Madurai Airport - 101; Cuddalore, Erode, Palayamkottai, Thanjavur, Thirupathur - 100; Nagappattinam - 99.
PLEASE NOTE THAT THE TEMPERATURE WILL CONTINUE TO BE HIGH IN THE NEXT FEW DAYS!