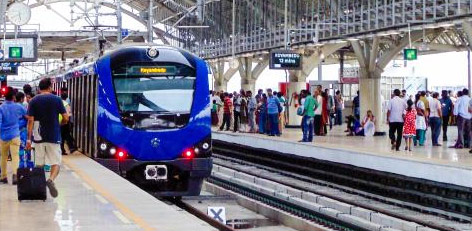 <!— LinkAdsResp16Jun2017 —>
Chennai`s metro rail service has become a lifeline for thousands of commuters, helping them to avoid the city`s notorious traffic congestion. As the second phase of metro rail work continues, the administration is encouraging even more passengers to use this modern and efficient mode of transportation.
To recognize and appreciate the loyalty of regular commuters, the Chennai Metro Rail Administration is offering exciting prizes and rewards. In a recent initiative, the top 10 passengers who traveled the most on the metro trains in the previous month were awarded a prize worth 2000 thousand rupees each.
Additionally, 30 other passengers were selected and given a travel card to enjoy free travel as they wished. This gesture by the metro rail administration has received high appreciation from the commuters and has encouraged many more to use the metro rail services.
The Chennai Metro Rail Administration has revealed that over the last 11 months, they have given out prizes worth 11 lakhs of rupees to regular commuters, as a token of appreciation for their patronage. This move is not only encouraging more people to use the metro rail services but also demonstrating the administration`s commitment to passenger satisfaction.