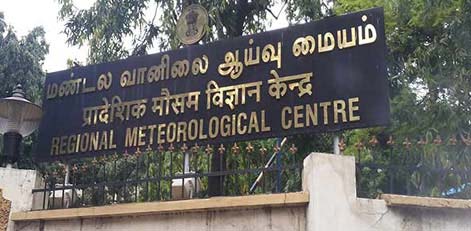 <!— LinkAdsResp16Jun2017 —>
The Regional Meteorological Centre or RMC in Chennai has informed that there is a possibility of light to moderate rains on 27th and 28th February in the coastal districts and in the delta districts of south TN.
It is noteworthy that the Regional Meteorological Centre has been publishing the daily weather forecast through reports. In this scenario the Regional Meteorological Centre in Chennai has released the weather forecasts for the next few days. From the release it was clear that from 24th to 26th February there would be dry weather in TN, Puducherry and Karaikal etc. There are no chances of rain in the next 2 days.
The release added that on 27th and 28th February, in one or two places belonging to coastal districts, delta districts of south TN, Karaikal etc, there might be light to moderate rains.
Now, the weather is cool in Chennai and there is no rain. In the next 48 hours, Chennai and its surrounding areas would be partly cloudy and the minimum temperature would be around 22 degrees Celsius and the maximum temperature would be around 33 degrees Celsius.