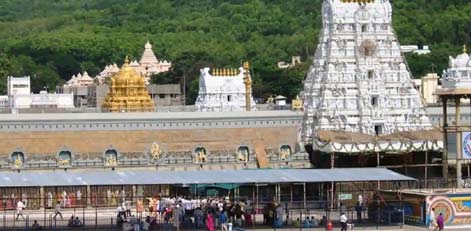 <!— LinkAdsResp16Jun2017 —>
The State Government of Andhra has given permission to the Thirumalai Tirupathi Devasthanam Board (TTD) to allow the devotees to have Darshan of the Lord Venkateswara in the Tirupathi temple.
It has been announced that social distancing should be followed strictly in the temple premises and around.
It is announced by TTD that the local devotees and the TTD employees will be allowed Darshan of the Lord Venkateswara on a trial basis.
It is informed that the devotees coming for Darshan must keep a distance of 6 feet between one another.
Following the imposition of the various lockdown Phases imposed in the country, the Tirupathi temple was also closed as a preventive measure against the raging Coronavirus pandemic and the devotees were barred from entering the temple premises.
In this situation, the central government had announced on the imposition of Lockdown Phase 5 that the worship spots can be opened after 8th June. As such, the state Government of Andhra has given permission to TTD to allow the devotees for the Darshan of Lord Venkateswara at Tirupathi temple.