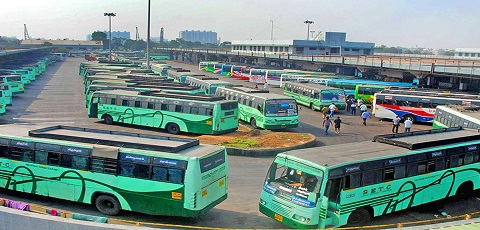 <!— LinkAdsResp16Jun2017 —>
The 2 important days of the Navarathri festival season (Saraswathi pooja and Vijayadashami) have arrived now and the buses and trains in Chennai are full of people. Many are rushing now to their native places in various districts in TN. Truth is that more than 12 lakhs have left Chennai now to their native places. This was pointed out by data from the transport dept and railways.
Major transit hubs like CMBT in Koyambedu, Central railway station and Egmore railway stations did not have huge crowds because of the fact that only employees of IT firms and private industries have booked their tickets at the last minute. More than 8000 bus services have been operated by the state transport corporation for the pooja holidays from Chennai city. For the return journey to Chennai, enough buses have been kept ready now.
Not minding the high ticket cost, many people preferred omni buses to go to their natives from Chennai. The demand for these buses was very high. Normally, it would take 13 hours from Chennai to Ernakulam in Kerala but in the SETC buses it would take 17 to 18 hours. This was as per a Ernakulam resident working in Chennai. According to Mr. Sivasankar, minister for transport, when compared to last year, the private bus operators have reduced the bus fares now by 20percent to 30percent.
He added that just those persons who were willing to pay extra opted for omni buses. He concluded that if someone complained about the excess ticket fares then their ticket amount would be given back to them.