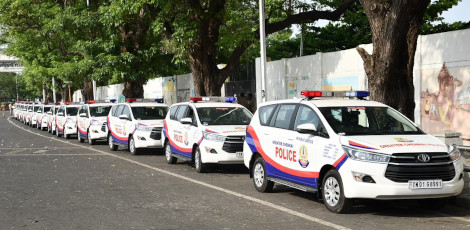 <!— LinkAdsResp16Jun2017 —>
Don`t be surprised if you come across new patrol vehicles fitted with beacon lights!!
On Monday, the Chennai city police commissioner Mr. Shankar Jiwal was busy in flagging as many as 100 patrol vehicles. These vehicles are being fitted with new beacon lights. This caught the attention of many. The new beacon lights have been fitted at a cost of Rs 22 lakhs.
The vehicles were inspected at Rajarathinam stadium in Chennai by the Chennai police commissioner and by the additional commissioner, Headquarters, Mr. J. Loganathan. The vehicles received under the Corporate Social Responsibility fund are well known.
For the sake of law and order duties, the Greater Chennai Police has now got 91 main patrol vehicles, 36 additional patrol vehicles, 104 gypsy patrol vehicles, 41 special mobile patrol vehicles, 47 traffic patrol vehicles, and 35 pink patrol vehicles. A total of 345 patrol vehicles that are being operated and connected with the police control room.