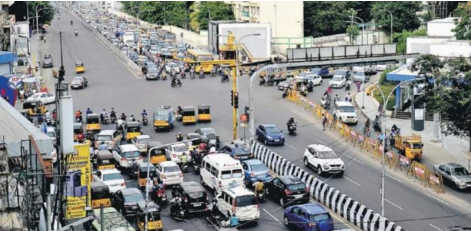 <!— LinkAdsResp16Jun2017 —>
A new scheme has been devised to improve traffic monitoring in Chennai Metro City and prevent accidents. The scheme is set to be implemented according to the guidelines provided by the Central Government. The State Government of Tamil Nadu has released the new guidelines in its Journal.
Under this new system, traffic police officers will be equipped with cameras to monitor vehicular traffic. The monitoring will be conducted using cameras installed in the Traffic Police Vehicles.
Monitoring cameras will be installed on State Highways, Central Highways, important cities, and major junctions for close surveillance.
The system will feature automatic reading of vehicle numbers. It will also enable monitoring and recording of high-speed driving and instances of not wearing seat belts. Traffic violations, such as vehicles obstructing traffic, bypassing signals, or carrying passengers in freight vehicles, will be closely monitored. The new system will introduce the capability to impose penalties on vehicles that violate traffic rules from the central control room.
Details of traffic violations, including date, time, and location, will be communicated via email, SMS (Short Message Service), or personal delivery. Arrangements have been made to pay traffic penalties online or at Traffic Police Stations. Advanced monitoring cameras will be installed on highways throughout the state to monitor traffic.