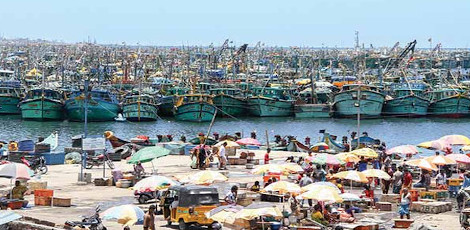 <!— LinkAdsResp16Jun2017 —>
Kasimedu Fishing Port in Chennai witnessed a bustling scene on Sunday, with fish lovers and traders flocking to the market to purchase fresh fish. Despite the reduced supply of fish, the demand remained high, and prices were slightly higher than the previous week.
Vanjaram fish, which was sold at Rs.750 per kg last week, was being sold at Rs.900 per kg yesterday. Meanwhile, the prices for other types of fish also saw a slight increase. White bat was sold at Rs.1150, black bat at Rs.850, and Sankara at Rs.450. Sea urchin was being sold at Rs.400, shark at Rs.600, shrimp and crab at Rs.450 each. Other varieties of fish, such as koduva, rockfish, and conger, were sold at prices ranging from Rs.300 to Rs.600.