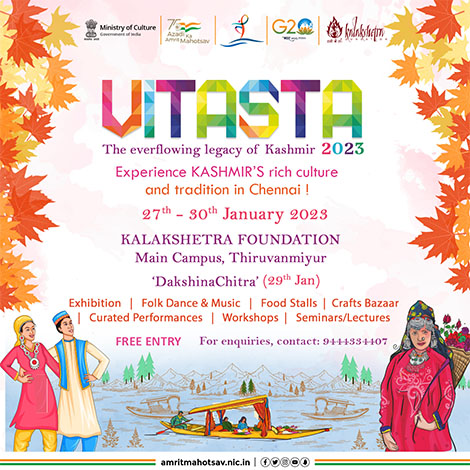 <!— LinkAdsResp16Jun2017 —>
Kalkshetra Foundation, a pioneer in cultural events, in collaboration with Dakshina Chitra, is organising a 4-day event, `VITASTA` at Kalkshetra Foundation which is scheduled to commence tomorrow (Sunday, 30th January).
This event, `VITASTA", was inaugurated by the Governor of the State of Tamil Nadu, R. N. Ravi yesterday (Friday, 28th January).
The event aims to aim to spread awareness of the culture and tradition of Kashmir in Tamil Nadu!
About Kalkshetra Foundation:
It conducts a series of activities like- classical and folk performances, other offstage events like exhibitions, seminars, workshops, a painting competition for children, a market, and a food court presenting a variety of delicacies from the South Indian and Kashmiri cuisine.
The Exhibition:
The exhibition will feature a collection of Kashmiri handicrafts and paintings. Participating in the seminar, to talk on the topics `Literary and Cultural Heritage of Kashmir` and `Vitasta: The Ever-Flowing Legacy of Kashmir`, are speakers Advaitvadani Kaul, Aejaz Mohammed Sheikh, Giridhar Mamidi and lots more.
Dakshina Chitra will display an exhibition featuring handicrafts by Kashmiri artisans on January 29.
The programme manager of Dakshina Chitra shared that the organization was happy to collaborate with Kalakshetra!
He further explained the name `VISTATA`: "River Vitasta, now called Jhelum, originates at Verinag and flows through Kashmir and then into the Pakistani province of Punjab. It explores the life-giving nature and unifies the people of both countries. We try our best to diversify art and so as a part of this event, we have also included Villupattu and folk music and dance. Kalakshetra has left no stone unturned in putting this event together and I would like to thank them for it."