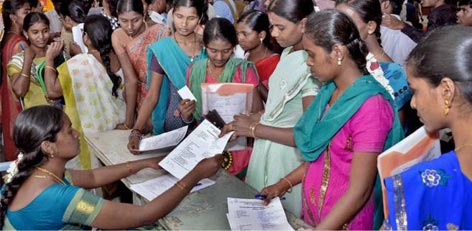 <!— LinkAdsResp16Jun2017 —>
A Job Opportunity Camp for the private sector is being held in Chennai tomorrow (Friday, 16th February).
Chennai District Collector Amirtha Jothi has announced that candidates from 8th Standard Pass to graduates can all participate in this job opportunity camp in Chennai Metro City for the private sector!
In a notification released in this regard by the Chennai District Collector, it is mentioned:
"Job Opportunities camps in the private sector are being organized in all the District Employment Opportunity and Guidance Centres throughout Tamil Nadu on the 2nd or the 3rd Friday of every week providing opportunities for the jobless youth in the state. A good number of unemployed candidates have successfully gotten jobs in the private sector!
As such, all the Job Opportunity and Guideline Centres in Chennai Metro City are joining together and organising a Job Opportunity Camp in the Private Sector tomorrow (Friday, 17th February).
This Job Opportunity Camp in the Private Sector is being organized at the Integrated Job Opportunity Complex located on the Guindy-Alandur Road in the Chennai District Job Opportunity and Guidance Centre tomorrow (Friday, 17th February) from 10.00 AM to 2.00 PM.
Candidates with academic qualifications right from the 8th Standard, 10th Standard and 12th Standard (passed), ITI (Industrial Training Institute training 2-year Certificate Course on various trades including electrician, carpenter, plumber, wireman, etc.), Diploma Holders, and graduates in Arts, Science, or Engineering in any faculty!
More than 20 Private Sector industries/organizations are participating in this camp proposing to recruit candidates as required!
NOTE THAT THE EMPLOYMENT EXCHANGE REGISTRATION OF THOSE WHO GET JOBS WILL NOT BE CANCELLED!
FURTHER, BOTH THE EMPLOYERS AND THE APPLICANTS PARTICIPATING IN THIS CAMP NEED NOT PAY ANY CHARGES!
Both the private sector organizations and the job-seeking candidates participating in this camp need to register in advance on the website: www.tnprivatejobs.tn.gov.in
WE APPEAL THAT ALL JOBLESS YOUTH MAY AVAIL OF THIS GREAT OPPORTUNITY TO GET A JOB!"