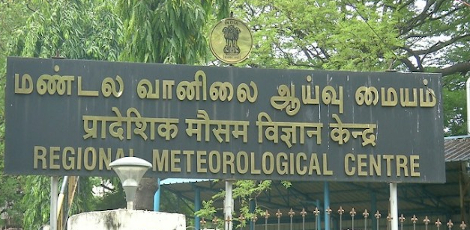 <!— LinkAdsResp16Jun2017 —>
The cyclone `Mandous` formed over the Bay of Bengal, has intensified! This cyclone is likely to cross the coast via Chennai-Mamallapuram around midnight (today, Friday, 9th December).
As such, an ALERT HAS BEEN ISSUED TO 15 DISTRICTS REGARDING VERY HEAVY RAINS! THERE MAY BE PERSISTENT HIGH-SPEED WINDS BLOWING IN CHENNAI AD THE ADJACENT DISTRICTS AND IT WILL ALSO RAIN VERY HEAVILY!
The cyclone Mandous, which is prevailing over the Bay of Bengal, as per the status yesterday (Thursday, 8th December), intensified into a severe cyclone!
This furious cyclone `Mandous` is now drifting towards the Tamil Nadu-Pudhuchery coast at 12 kmph! This was located at 320 km southeast of Chennai!
While it approaches the land area, the cyclone will lose its intensity today morning (Friday, 9th December).
After this, it will gradually drift towards Tamil Nadu-Pudhuchery land areas!
The Chennai Regional Meteorological Centre has informed that the centre of the cyclone after midnight (Friday, 9th December), will drift to the coastal area between Pudhuchery and Sriharikota and Mamallapuram-Chennai and cross the coast, and may enter the land areas here!
When the cyclone nears the coast and enters the coast, there are prospects for high-speed winds at 85 kmph.
Due to these very high-speed winds the coastal area residential areas, old buildings and huts &tenements situated across the southern coastal Tamil Nadu-Pudhuchery-Andhra ARE LIKELY TO BE DAMAGED! TREES MAY FALL! ELECTRIC POLES AND TOWERS AND PILLARS MAY ALOS GET DAMAGED! WARNINGS HAVE BEEN ISSUED TO THE RELATED GOVERNMENT DEPARTMENTS!
THE OCEAN WAVES MAY BE FEROCIOUS DUE TO THE CYCLONE! IN THE LAND AREAS WHEN THE CYCLONE ENTERS, THE WAVES MAY GO UP AT 3` HIGHER! THERE ARE PROSPECTS OF THE SEA ENTERING THE LOW-LYING AREAS AS WELL!
FURTHER, BAN ORDER HAS BEEN GIVEN TO THE FISHERMEN FROM VENTURING INTO THE SEA IN THE TAMIL NADU-PUDHUCHERY-ANDHRA COASTAL AREAS!
THE CYCLONE, WHICH CROSSES THE COAST AND ENTERS THE LAND, MAY COVER THE DISTRICTS OF Chennai, Thiruvallur, Kanchipuram and Chengalpattu and mow via districts of Vellore, Thiruvannamalai, and Ranippettai and losing intensity, will enter the Andhra State border.
As such, the 15 districts of Chennai, Chengalpattu, Kanchipuram, Thiruvallur, Cuddalore, Villupuram, Ranippettai, Thirupathur, Pudhuchery, Karaikkal and the Delta districts have been BROUGHT INTO THE `WARNING CIRCLE`!
Further cyclone warning cones have been erected in the ports of all coastal areas in Tamil Nadu, Puducherry and Andhra!
As such:
A comprehensive monitoring system is in action monitoring the movement of the cyclone and the developments!
All fishing boats have returned to the shore!
All schools and colleges have been closed in 24 districts!
High-speed winds and rainy Chennai
In the history of Chennai, cyclonic winds had blown in 1966, 1994, and 29016. During the Vardha cyclone in 2016, winds blew at 100k kmph! When the Mandous cyclone crosses thehe Chennai coast, the wind speed may be as high!
The examinations scheduled to conduct from giving educational scholarships are cancelled!