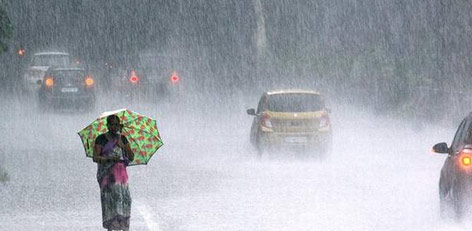 <!— LinkAdsResp16Jun2017 —>
The Chennai Meteorological Research Center, through a recent press release, has issued a weather advisory for several districts in Tamil Nadu and Puducherry. According to Director P. Senthamaraikannan, a zonal overturning circulation is prevailing over the northeast coastal areas and adjacent regions, along with a change in the speed of the westerly wind blowing towards Tamil Nadu.
The weather forecast indicates the following:
Today (September 26): Expect light to moderate rain with thunder and lightning at a few places in Tamil Nadu and Puducherry.
Tomorrow and from 28th to 1st October: Light to moderate rain is anticipated at a few places.
Heavy Rain Warning: On 28th and 29th, there is a likelihood of heavy rainfall in the following districts - Cuddalore, Villupuram, Chengalpattu, Thiruvannamalai, Kanchipuram, Ranipet, Vellore, Tirupattur, Kallakurichi, and Puducherry.
Chennai and its suburbs are expected to remain partly cloudy over the next 48 hours, with some areas experiencing light to moderate rain accompanied by thunder and lightning. The maximum temperature is expected to reach around 97 degrees Fahrenheit, while the minimum temperature will be approximately 79 degrees Fahrenheit.
Recent rainfall data shows notable accumulations, with 12 cm recorded in Kudiatham (Vellore district) and 10 cm in Melalathur (Thiruvannamalai, Vellore district). Sholinganallur in Chennai, Sriperumbudur in Kanchipuram district, and Thamaraipakkam in Tiruvallur district each received 10 cm of rain. Additionally, Chepet and Kalasappakkam reported 7 cm, while Madhuranthakam, Mamallapuram, Virinchipuram (Vellore district), and Villupuram district received 6 cm of rainfall.
On the 28th, winds are expected to reach speeds of 40 to 45 km per hour in the south-eastern coastal areas, Gulf of Mannar, and adjoining Kumari Sea, with occasional speeds of 55 kmph. Cyclonic winds are also a possibility, leading to a cautionary advisory for fishermen to avoid these areas on the specified day.