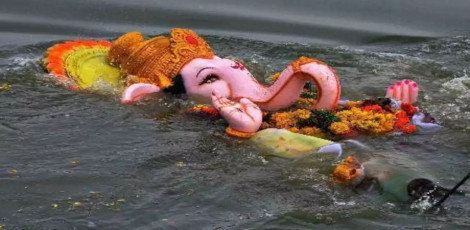 <!— LinkAdsResp16Jun2017 —>
Chennai witnessed a grand spectacle of devotion as 1,948 Vinayagar idols were immersed in the sea on Sunday. This event marked the culmination of Vinayagar Chaturthi celebrations, during which a total of 2,148 idols were installed at public locations across Chennai, Tambaram, and Avadi Police commissionerates on September 18.
Organizers secured permissions for procession routes approved by the police, leading to immersion at key locations, including Pattinambakkam, Srinivasapuram, Neelankarai, Palkalai Nagar, Kasimedu Fishing Harbour, and Tiruvottiyur Popular Weighing Bridge.
Under Police Commissioner Sandeep Rai Rathore`s guidance, an impressive 16,500 officers and personnel, backed by 2,000 Home Guards, ensured law and order. Avadi Police Commissionerate contributed 2,080, and Tambaram Police Commissionerate deployed 1,500 officers, totaling 22,080 on duty.
Idols were carefully transported along approved routes, resulting in peaceful immersions: 1,197 in Pattinambakkam, 537 in Neelankarai, 180 in Kasimedu Fishing Harbour, 24 behind the Tiruvottiyur Popular Weighing Bridge, and 10 in nearby waterbodies.