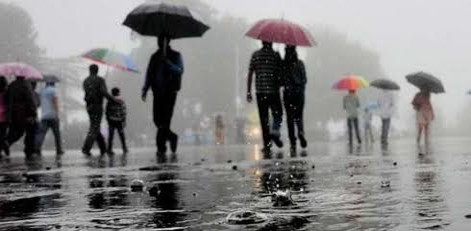 <!— LinkAdsResp16Jun2017 —>
In today`s weather update, Chennai Meteorological Center Director P. Senthamaraikannan has issued a press release forecasting heavy rain in six districts, including Nilgiris and Salem. This weather phenomenon is attributed to the prevailing atmospheric circulation over South Tamil Nadu and its neighboring regions. From today until the 26th of the month, the states of Tamil Nadu and Puducherry can expect light to moderate rain accompanied by thunder and lightning in certain areas. Similarly, there is a likelihood of light to moderate rainfall in a few places on the 27th and a couple of places on the 28th.
The districts of Nilgiris, Erode, Salem, Dharmapuri, Krishnagiri, and Tirupattur are expected to receive heavy rainfall today.
In contrast, Chennai and its suburbs are forecasted to experience partly cloudy skies. Some areas within the city may also witness light to moderate rain with thunder and lightning. The maximum temperature is anticipated to reach around 97 degrees Fahrenheit, with a minimum temperature of approximately 82 degrees Fahrenheit.
Regarding the recent rainfall data, as of 8:30 am on the 22nd of September, the following figures were recorded:
Surulakod in Kanyakumari district received the highest rainfall at 11 cm.
Perunjani dam in Vedasandur, Dindigul district, and Budhan dam in Kanyakumari district each recorded 10 cm of rainfall.
Kallikkudi in Madurai district and Okenakkal, Palakodu, and Dindigul Tobacco Station in Dharmapuri district reported 9 cm of rainfall.
There were reports of 7 cm of rainfall in these locations.
These details have been provided in the press release issued by P. Chenthamaraikannan.