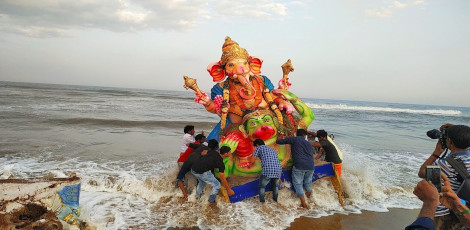 <!— LinkAdsResp16Jun2017 —>
The important occasion of Vinayaka Chathurthi was celebrated with grandeur, devotion, and enthusiasm throughout Tamil Nadu yesterday (Thursday, 1st September. On this grand occasion, idols of different sizes of Lord Vinayaka were set up in several places.
In this scenario, the Greater Chennai Corporation has come up with the rules and regulations to set up idols of Lord Vinayaka and also the locations to immerse these idols.
In a notification released by the Greater Chennai Corporation regarding this, it is mentioned:
"In Chennai in the areas under the Police Jurisdiction, permission has been granted to install 1352 idols of Lord Vinayaka in different places and perform prayers and poojas.
As per this, Avadi is under police jurisdiction, and permission has been given to install 503 idols to perform prayer and poojas.
Permission has been given to install Lord Vinayaka idols in the areas of Srinivasapuram, Pattinappakkam, Palkalai Nagar, Neelankarai, and other areas.
After the celebrations, the idols of Lord Vinayaka can be immersed in the Kasimedu fishing port area, Thiruvotriyur, and the backside of the Popular weight Platform!
Note that the procession of the idols of Lord Vinayaka CAN BE TAKEN ONLY ON THE PERMITTED DAYS AND PERMITTED PLACES!
NOTE THAT CRACKERS ARE NOT ALLOWED TO BURST IN PLACES WHERE IDOLS OF LORD VINAYAKA HAVE BEEN INSTALLED DURING THE PROCESSION, AND IN THE AREA OF IMMERSION!
NOTE THAT STRINGENT IMMEDIATE LEGAL ACTION WILL BE TAKEN ON THOSE WHO VIOLATE THE ABOVE RULES AND REGULATIONS!"