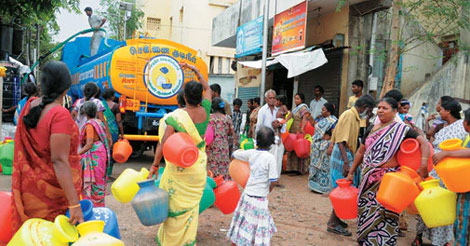 <!— LinkAdsResp16Jun2017 —>
Tondiarpet is an important locality belonging to north Chennai having a huge population. Therefore, it is highly necessary that there must be a proper drinking water supply for the residents here.
The news is that the Tondiarpet residents have given complaints regarding blockage in sewage connection resulting in the overflow of drainage water. There is a constant stagnation of water in the locality. It is shocking to mention that the drainage water overflow has contaminated the drinking water supply from the hand pumps. The water has become unfit now for drinking. And this has made many residents worried.
As per a resident belonging to Nedunchezhiyan Nagar in Tondiarpet it was clear that this has been an issue for more than 10 years. He threw light on how garbage and plastics have blocked the drainage here and due to this there has been drainage water stagnation in the rainy season. It must be noted that some officers have visited the locality and it is now brought out that line extension was required and the present pipes needed to be replaced by long ones. An amount of Rs 70 crores would be needed for this work.
The residents want a permanent solution now. Point is that the Metro water department just drains the stagnated water whenever they receive any complaint from the residents here. It is worthy to note that the water released by CMWSSB is contaminated and it is not suitable for drinking and cannot be used for any domestic purpose.
Another resident spoke about how despite getting water from the metro water department the residents here are forced to spend Rs 100 per day for the sake of drinking water. The place has become breeding ground for mosquitoes and due to this reason the residents here suffer from issues like diarrhoea, fever plus other skin issues etc.
It was later revealed by a senior officer belonging to CMWSSB that it has been happening for many years as the connections were provided 30 years back. He hinted that a proposal was sent to the government for line extension and pipe replacements etc. He concluded that the works would begin after the proposal gets accepted.