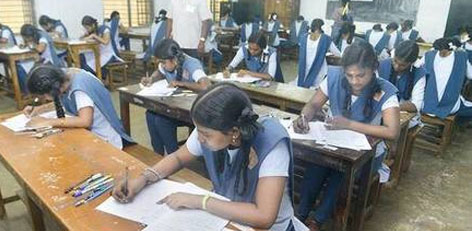 <!— LinkAdsResp16Jun2017 —>
The Public Examinations fo0r the +2 (12th Standard Students) studying under the Tamil Nadu State Government Syllabus
Has commenced today throughout the state of Tamil Nadu and progressing!
The Public Examinations are being conducted in 3119 Examination Centres throughout Tamil Nadu and 837311 students are writing the Public Examinations. This concludes on 28th May.
The first examination commenced at 10.00 AM and is set to conclude at 1.15 PM.
It had been announced earlier that the students must be present at the examination centre before 9.45 AM. As per this, the bell rang for the commencement of the examination at 9.45 AM! The candidates entered the examination centre. The bell rang again at 9.55 AM. The Supervisor opened the examination paper package cover.
Exactly at 10.00 AM, the third bell rang! At this time, the examination papers were distributed to the candidates!
The Department of Education has been strongly advising the candidates that they MUST read the question paper thoroughly between 10.00 AM and 10.10 AM!
The bell rang for the 4th time exactly at 10.10 AM! Now, the answer sheets were distributed to the candidates. The bell will ring for the 5th time at 10.15 AM (5 times!)!
At this juncture, the students/candidates can start writing their answers.
The warning bell will ring at 1.10 PM. Now, the candidates have to bind their answer sheets with threads.
There will be a long bell at 1.15 PM indicating the conclusion of the examination.