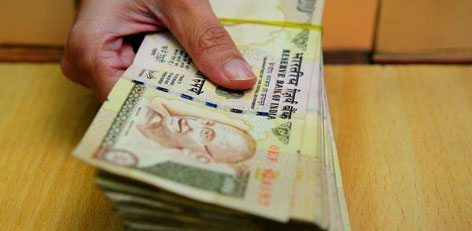 <!— LinkAdsResp16Jun2017 —>
Enormous crowds of the public are spending their time standing in the queue in the banks and ATMs for exchanging the recently declared as invalid currency notes of Rs. 500/- and Rs. 1000/-.
They are facing hardships not having the required money for essential things. They are anxious to deposit all their invalid currencies immediately in the banks and get credit and thus enormous crowds are seen in front of ATMs and in the banks.
Though transactions through Demand Drafts and cheques are being processed in the banks, the public has shown eagerness only to exchange their Rs. 500/- and Rs. 1000/- currency notes.
The maximum limit for withdrawing has been increased from today. So, the public can withdraw more money from the banks and ATMs.
Further, enough time has been given till 30th December for exchanging the invalid currency notes. The transaction through Rs. 100/- currency notes has started in the banks and ATMs now.
With the availability of the new Rs. 500/- currency note to be released today, it is expected that the crowd levels in the banks and ATMs will come down.
The banks have started sending SMS to their customers advising them not to be in a hurry to deposit their money as enough time is available to exchange the invalid notes.
The banks have also informed that the public interested in exchange/deposit of money can visit the bank when the crowd is less and avoid the crowd timings. The exchange is possible till 30th December.