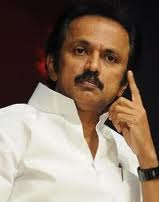 <!— LinkAdsResp16Jun2017 —>
The Tiruvarur police released former deputy CM M K Stalin after 4 hours of his arrest. He came out of police custody at 2 pm today.
Police arrested Stalin on Saturday when he objected the detention of DMK functionary Poondi Kalaivanan. Soon after, DMK cadres staged a big statewide protest to release their leader.
After 4 hours of the arrest, police freed Stalin and others except Poondi Kalaivanan.
Later police say that Stalin was never arrested or detained. They add that Mr Stalin was merely moved as he was obstructing traffic.